Despite the clean appearance of modern home environments, there are endless opportunities for microbial exposure. Microbial species are being continually introduced into the home by people, water, food, pets, the air, etc, and such organisms are readily spread via hands and contact surfaces around the home. These microbes can cause illness and disease if not dealt with effectively, and correct hygiene practices are not in place. The practice of good hygiene and targeted disinfection is critical with regard to disease-prevention. It can truly be said that 'an ounce of prevention is worth a pound of cure'.
Hygiene @ Home
A safe and healthy home
Huwa-San Hygiene @ Home products are the ideal solution for all household disinfection. Huwa-San disinfectants are safe, 100% ecological and odourless. Huwa-San disinfectants can be used to disinfect surfaces, utensils, hands, and can even be used for food disinfection.
Learn more about Huwa-San Hygiene @ Home
Huwa-San Hands
Happy Hands – Keep them clean and soft!
According to current knowledge, hands represent the greatest risk for the transmission of diseases! The WHO (World Health Organization), VAH (Association for Applied Hygiene, registered association) and RKI (Robert Koch Institute) also consider the hands to be the no. 1 source of the spread of infection. Good hand hygiene is one of the most important preventive measures for protection against infection. Therefore thorough washing and disinfecting is essential. Hygiene @ Home Hands is a very effective natural disinfectant that will not only kill all bacteria, but also protects your skin, leaving it feeling smooth and soft. Thanks to its handy spray, you can carry it anywhere with you!
Advantages:
It is very skin-friendly, it makes your skin really soft
Very effective against all bacteria and other micro-organisms
Colourless, odourless, no foam
Ecologically friendly, kind to the environment
Easy to carry it with you, even on an airplane
Available as 100 ml Spray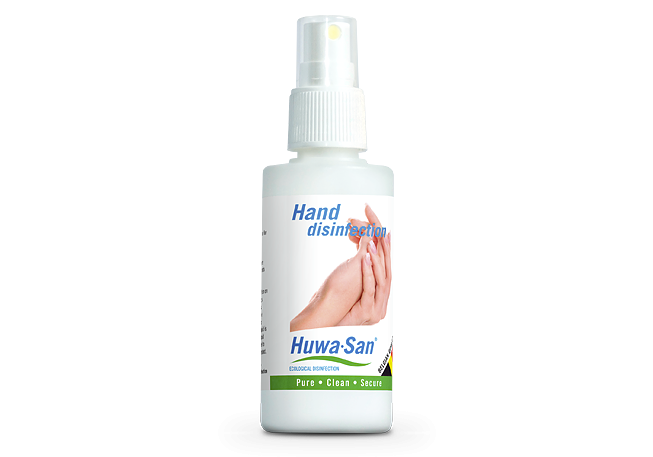 Huwa-San Toilet
The safe way
Public washrooms are often a source of bacteria, and can transmit diseases and skin infections. Despite improved regulations about cleansing public toilets, extra disinfecting is recommended. Huwa-San Toilet is scientifically proven to be effective, and it's easy to use thanks to its 100ml spray bottle. Huwa-San Toilet belongs in every handbag!
Advantages:
very effective against bacteria, virusses and other micro-organisms
kills 99,9% procent of all bacteria
Kind to your skin
easy to use
odourless
no toxic fumes
the small spray is ideal to carry with you
Available as 100 ml Spray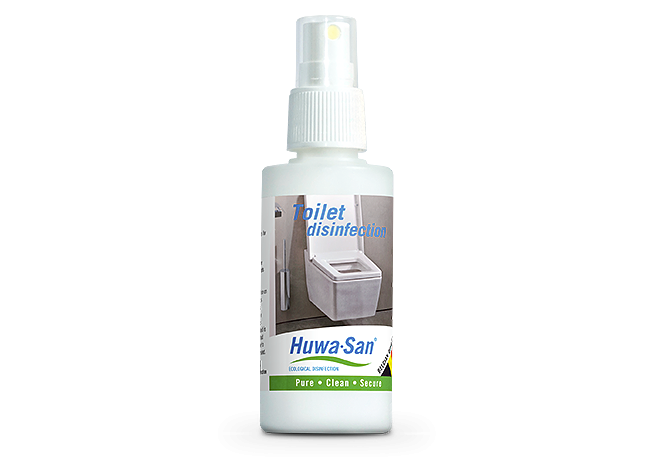 Huwa-San Bathroom
Relax in complete purity
The bathroom is for many of us a place to relax in warmth and water… but it also happens to be the perfect environment for fungi and bacteria to breed. Hygiene @ Home comes in here. It fights fungi and bacteria very efficiently, without any annoying odour or presence of toxic fumes.
Advantages:
odourless
quick and easy-to-use,
Kind to your skin
100% biodegradable
No toxic fumes or by-products
Very effective against fungi and bacteria
Available as 500ml Spray
Huwa-San Fruit & Vegetables
Enjoy your vitamins without worries
Fresh fruit and vegetables provide health and energy, but they can also bring a hidden hazard. You never know who has touched your food, in what conditions they were stored, what kind of pesticides, insects or dirt may be lurking on the surface of your favourite fruits and vegetables. Washing with plain water can achieve a lot, but by adding Huwa-San Fruit & Vegetables to your water, all bacteria, virusses and fungus spores will be removed before they can impair the quality of your fresh food. Did you know that if you wash your fresh food with Huwa-San, it stays fresh and healthy for longer?
Advantages:
very effective against bacteria and virusses
extends the shelf-life of your fresh food
doesn't affect the taste or appearance of food
colourless and odourless
100% biodegradable
easy to use
At the correct dosage, safe for food, humans and the environment
No toxic by-products
Available in 1L Bottle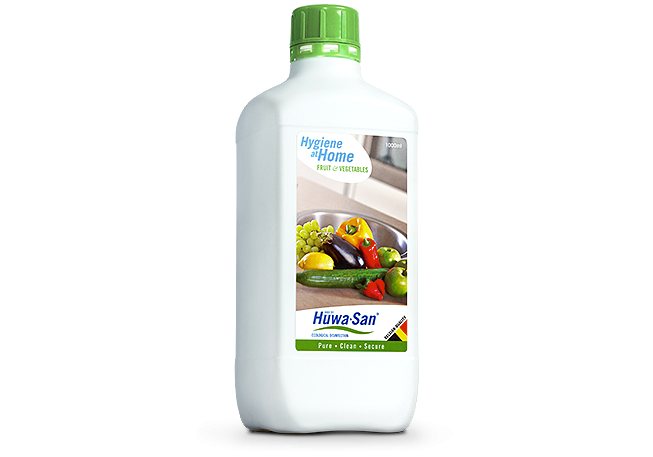 Huwa-San Kitchen
A clean and healthy kitchen
The kitchen is the place where we prepare our food, but unfortunately it's also a breeding-ground for many dangerous bacteria. To help stop germs spreading, it's important regularly to clean and disinfect kitchen surfaces that are often touched by hands, such as the fridge door- handle, cupboard handles, taps and door knobs. Food preparation surfaces and kitchen utensils should be cleaned and disinfected as well just before using them to prepare food, and immediately after contact with any raw food (e.g. poultry, meat, fish, eggs). Huwa-San Kitchen provides the perfect ecological and toxic-free solution.
Advantages:
very effective – kills 99,9% of all bacteria
odourless and tasteless
safe to use in contact with food
safe to use in contact with your skin
no toxic by-products
100% biodegradable
Available as 500 ml Spray